RAPID CITY, S.D. – From a proposed downtown parking study to a multi-agency agreement for a new hire, there were a few things on the agenda for Rapid City's Legal and Finance Committee meeting on September 13.
Downtown Parking Study and Strategic Plan Review
In 2017, a Downtown Parking Study and Strategic Plan was developed. It was implemented in 2019 whereas smart meters, an electronic permitting system, and license-plate reading cameras were put into effect. Now a Request for Proposal, or RFP, was developed to review the plan and fine-tune the downtown parking system, rather than implementing a new parking system.
The Parking Lots & Areas Enterprise Fund allocated and budgeted $100,000 for the Downtown Parking Study and Strategic Plan. The allocated money will go to hiring a selected consultant for the review. Rapid City's City Council has already approved this expenditure as part of the 2023 budget. Between the Parking Advisory board and stakeholders, feedback was provided to staff.
"So, we're looking to have a consultant come back in and take a look at our system, see what we're doing now, see all the changes that we've made, and identify any inefficiencies, things that can be improved on." Said Anna Gilligan, Rapid City's Parking Operations Manager.
The proposed study area will be from North St. to Columbus St., and West Blvd. to East Blvd. The consultant's scope of work will generally be:
Determine parking utilization and adequacy of supply
Determine where additional supplies are needed based on current and future demands
Review parking management
Review enforcement area
Review fee structures
Review the need for an Electric Vehicle or EV charging system for downtown
Review ADA parking compliance
Review overall efficiency
The committee has forwarded the proposal with no recommendation to the City Council to vote on in next week's meeting.
Joint Agreement for Hiring a Psychologist
Between the State of South Dakota Office of Attorney General Division of Criminal Investigation, or DCI, Pennington County Sheriff's Office, or PCSO, the City of Rapid City, and Rapid City Police Department, or RCPD, was set an agreement for the need of psychology services for the different agencies.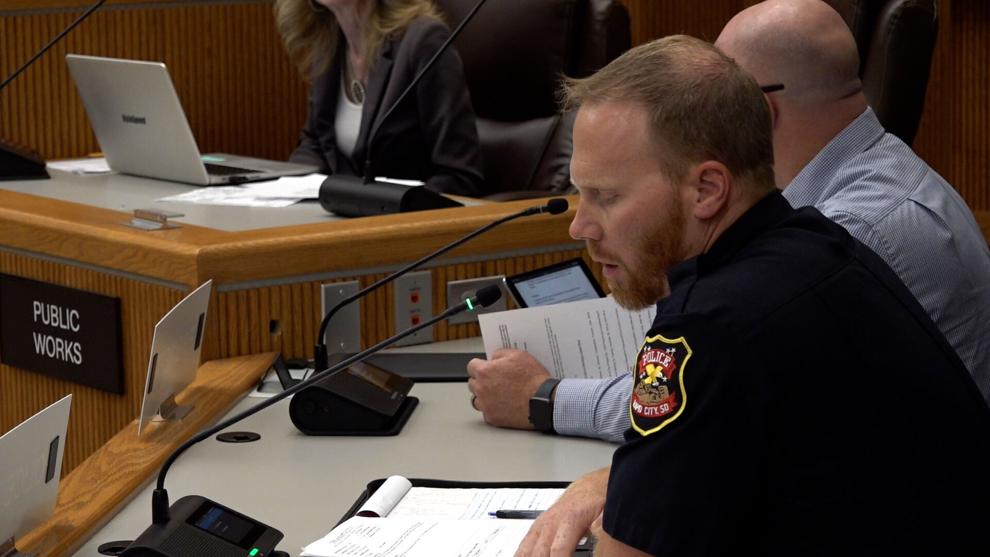 The DCI, PCSO, and RC believe it is an efficient use of resources to enter into this joint agreement for the provision of psychology service and that this is mutually beneficial. PCSO will be the agency that will hire the psychologist, but other agencies, including the Rapid City Fire Department, will have access to the services provided.
The psychologist will provide, but is not limited to:
Assisting in response to barricaded subjects and hostage situations
Assisting in critical incident debriefing
Provide training
Pre-employment testing and fitness for duty assessments on agents and basic students as needed, including psychological examinations
"The mental well-being of our officers, the people on the front line are the most important thing to us. And that's really the reason why we bring them in there. And also, like I mentioned, the pre-hire psychological exam is also to ensure that we're hiring the best-qualified individuals to be out on the street and representing the police department." Captain Christian Siegel for the RCPD said.
Additional services to be performed for Law Enforcement Training and Internet Crimes Against Children will be provided by the psychologist as well.
Rapid City's Legal and Finance committee approved the agreement, and it will be voted on in the next City Council meeting.
Credit: Source link